Welcome to the Wikia page for Gift Panic - the most advanced Match-3 Puzzle (iOS / Android)!


- Welcome to the Gift Panic Wikia
Gift Panic is about one thing: Fun. We believe that by brightening your day, while still providing enough challenges to keep you engaged, we are able to create an experience that is something out of the ordinary. Gift Panic puts a smile on your face and positive thoughts in your mind. It evokes a feeling of satisfaction as you complete a level. It values your skills when you defeat a boss and rewards you with a whole new world, and in many ways, a different game. It adds a sense of achievement when you manage to compete in World Rankings. You experience your dominance over the game strategy and physics, when you know you are free to move in any direction you want. It lets you explore the depths of your passion and strategic planning. More so than any other game. You emerge from any trap knowing you can travel back in time and undo your move. You get surprised over how many things unveil before your own eyes as you move from level to level, world to world. You catch yourself whistling the tune you heard in the game for days to come. You celebrate when you don't spend, but harvest instead. Your skills alone are enough to compete globally. Do you remember the games of the nostalgic past? The games of days gone by, when patterns and logic were held in high esteem. Gift Panic is a merge of old and new, strategy and puzzle. For this reason, we decided to allow the player full freedom, instead of trying to get them to buy as much as possible. Gift Panic is not about us. It is about you.
Gift Panic is a match-3 puzzel that allows movements in all directions, including diagonal. It has excellent graphics, music and gameplay, and every new tower has a completely different theme, making it seem more like different games rather than different parts of the same game. The engine is blazingly fast, allowing a swift and non-interruptive gaming experience, and the soundtrack is majestic. A lovely game bundled with a powerful package of game mechanics.
Itunes
ttps://itunes.apple.com/app/apple-store/id910148787?mt=8
Google play
ttps://play.google.com/store/apps/details?id=com.frogsy.giftPanic


Facebook: https://www.facebook.com/Frogsy.GiftPanic/
Instagram: https://www.instagram.com/gift_panic/
Twitter: https://twitter.com/gift_panic
Website: https://www.frogsy.com/gift-panic/
Soundcloud: https://soundcloud.com/giftpanic
We are a challenge and a puzzle. A smile and a surprise. A game and an experience. We are fun. UNCONDITIONAL fun. Welcome to a new level of match-3. Let's play
Latest activity
Edit
Photos and videos are a great way to add visuals to your wiki. Find videos about your topic by exploring Wikia's Video Library.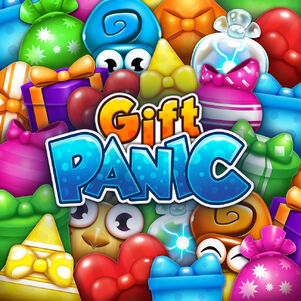 Ad blocker interference detected!
Wikia is a free-to-use site that makes money from advertising. We have a modified experience for viewers using ad blockers

Wikia is not accessible if you've made further modifications. Remove the custom ad blocker rule(s) and the page will load as expected.